ATTENTION. Calling all PR pros looking to upgrade their Social PR Smarts for 2017!
READ ON IF YOU ARE WILLING TO
THE SOCIAL PR VIRTUOSO®

MASTER COURSE
An action-packed 4-module master course that will take your Social PR game from humdrum to "Hallelujah!"... so that you become the go-to source for all things Social PR
... Social PR goodness flowing through your snappy self more lyrically and melodiously than Annie Lennox warbling "A Whiter Shade of Pale" ...
... being able to match the Social PR Yodas' grasp of the art from ear to outsize ear ...
... having a mastery of Social PR that would send Dumbledore back to school in his tightie whities ...
... Welcome to the world of the Social PR Virtuoso! Prepare to be entranced, advanced, and enhanced, because in just four sessions you will:
Unlock the secrets to solid research and foundation-building - a MUST for smart Social PR strategy - that won't daze you into a Voldemort-induced coma
Break down the math - yes, MATH - of great writing that will power your Social PR efforts better than Hulk Hogan
Master mighty metrics for your Social PR programs without an ounce of hocus-pocus, skullduggery, smoke or mirrors
... all in JUST FOUR SESSIONS!
YES - Enrollment in The Social PR Virtuoso® Master Course is Open!
Click your heels three times while rubbing your belly if any of this kvetching sounds familiar.

In fact, I've heard them so often I call them...
THE TOP 7 MYTHS

KEEPING YOU FROM FULFILLING

YOUR SOCIAL PR POTENTIAL
Myth #1: There's limited career growth in Social PR.
Fact: Smart Social PR can propel your career higher than Mt. Rushmore. Look at these movers and shakers I've taught.
Laura Parsons, Communications Director, Idaho Association of REALTORS®

Gary Klasen, Vice President External Communications, Eaton

Dawn Buzynski, Executive Director of Public Relations, Strategic America
Myth #2: Training-shmaining, any Joe Schmoe can do Social PR in their sleep.
Fact: Not really. It takes commitment, discipline, and a crap-ton of resourcefulness. That's how I got results like these:
a 300% jump year-over-year in advocacy conversions for a globally-recognized nonprofit
exceeded a reputed educational institution's goal of securing 1,000 registrants for a never-offered-before online program
parlayed a well-known tech company's woman entrepreneur-focused blog into a destination community that saw it ranked #1 on a coveted industry list
Myth #3: Learning Social PR online is dull and boring.
 Fact: In my classes, people get to make fun of me!
Myth #4: You can't get a quality Social PR education if you don't go to a big name university.
 Fact: Big name universities make even BIGGER bucks using my content, my delivery, and my name... often with a waiting list for my classes!
Myth #5: Taking a good online Social PR course is too time-consuming.
Fact: You'll spend less time in, and get more value out of, my Master Course than planning and stressing over your holiday shopping, 79% of which is going to be regifted anyway, and won't be anywhere near as cute OR fun as my basset Lola curled up in front of the fire.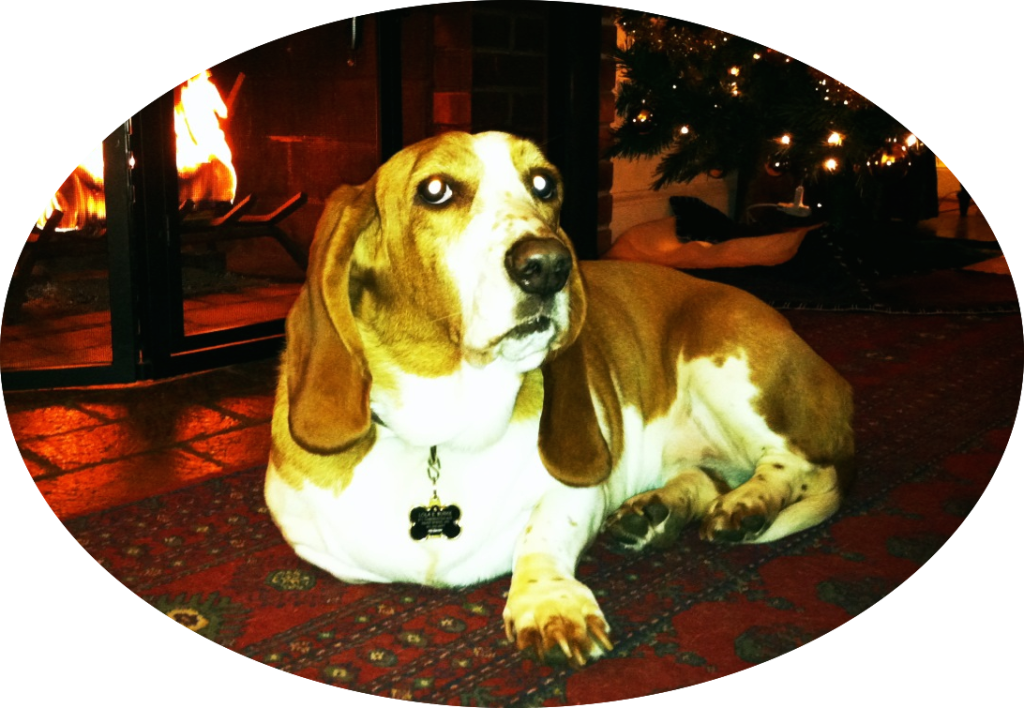 Myth #6: Online courses are taught by hucksters hiding in their mothers' basements while pinning fake Rolexes into their beige trench-coats.
Fact: there's nothing fake about these media outlets that have featured me and my work (to name just a few).
Myth #7: A quality Social PR course will cost you an arm, a leg, and your left ear.
Fact: for less than $10 a week - if you spent that for an entire YEAR - you can master Social PR.
Who am I and why should you care?
I teach smart Social PR to communication pros ballsy enough to look Math in the face and send it on a date with Social.
People who understand that the shortest PR distance from Point A to Point B is not always a straight line, and that galvanizing a cheering squad makes getting there a hell of a lot more fun.
I don't just flail at Social PR from any which way because it's the "phrase du jour." That would make it a P.I.T.A., which I'd much rather get at barre class so that my tushy becomes less cushy.
I'm deeply grateful to be part of an industry that I truly believe is on the brink of greatness. I've stood on the shoulders of giants to get where I am today, and now I want you to stand on mine.
I am a headstrong wife, a doting dog mom, an adventurous traveler, an amazeballs cook, a useless swimmer, and the most incongruous Elvis fan alive.
These are just a handful of the organizations that have trusted me with their money. You can too.
Ready to have Social PR permeate every pore of your snappy self?
Here's How You Become a Social PR Virtuoso In Just 4 Sessions
1

Module 1: Social PR Foundation Setting
Anything built to last must rest on a strong foundation. Module 1 covers:
My proprietary 7C Social PR Framework™ that will keep your strategy on the straight and narrow
The 9 categories of Social PR audiences, 7 of whom we rarely think about
A worksheet to identify low-high priorities on listening and engagement for each audience
A step-by-step framework for using digital tools for data discovery using keyword techniques
My proprietary methodology for media list building that covers all the bases no one ever thinks of
2

Module 2: Deconstructing Social PR Content
There's more to effective and versatile content - at the core of great Social PR - than meets the eye. Module 2 covers:
An at-a-glance matrix and workflow to develop and deliver the Batman and Robin of content: messaging and proof points
9 techniques for crafting pitch perfect sound bites
SEO principles for Social PR that will make Google do the two-step
An over-the-shoulder look into the content that gave Oxfam America a whopping 300% jump in conversions
My personal hack for creating pithy and punchy Social PR content
My proprietary, completely killer, Social PR editorial calendar template
3

Module 3: Optimizing Social PR Outreach
In a Web 4.0 world, effective Social PR is multi-faceted AND strategic. Module 3 covers:
The 6 words without which your Social PR efforts are doomed
The ONE question you have to be able to answer before pitching anyone, except maybe your mother
6 BIG no good VERY BAD must NEVER do elements of a pitch
3 often-overlooked Social PR hacks that are your secret weapons
A low-effort, high-impact daily listening workflow for all Social PR Virtuosos
A behind-the-scenes look at the now-classic Blue Key campaign
Getting a word IN rather than just getting the word OUT, bring your audience to your content
4

Module 4: Measuring Social PR Success
Valid metrics are core to successful Social PR taking its rightful place at the big kids' table. Module 4 covers:
The 3 buckets of PR metrics that will outlast us all, and how to fill them
My proprietary template for a one-page, at-a-glance, measurement framework
The one BIG no good VERY BAD must NEVER use acronym in smart Social PR measurement
The three MOST effective tools for smart Social PR measurement, especially if you're on a budget
Tracking for non-techies, Trekkies, and journalism majors
What puppies and kittens taught me, and will teach you, about measurement
And the best part? You'll get lifetime access to the course. No hidden expiration date, unlike your milk carton.
Because bonuses make everything better.
BONUS #1: The Twitter Chat Template Vault
Successful digital events are a critical part of Social PR. Even as we head into 2017, Twitter chats continue to be one of the hottest properties around.
This bonus gives you the only templates you'll ever need to launch and run your own successful Twitter chat.
Use the exact template I've developed to launch and run #measurePR since its inception in 2010. You'll get a customizable checklist from pre-to post-launch, sample run-of-show, guest brief template, a swipe file of promotional tweets to publicize your chat, as well as a reporting framework by which you can gauge the success of your chats over time.
Finally, learn the most user-friendly ways to archive and promote your chats long after they are done.
BONUS #2: Pick My Brain. I Mean It!
Do you know how many people want to "take me to coffee to pick my brain" for free?!
That's why I wrote a blog post a while back saying if you pick my brain, I'd have a hole in my head. I think it worked... a bit!
But here's the thing - I WANT you - YOU, to pick my brain!  You care enough about a smarter approach to Social PR to pay good money for this course, and I can't tell you how grateful I am.
So, every month, you'll have the opportunity to participate in a one-hour group call that I'll set up.
Yes, you read that right: EVERY month. This isn't a drive-by course, where you're on your own once you sign up. You get the benefit of lifetime access to the Course and dedicated time with me and the other Virtuosos every month!
And on these calls, I'll help you unravel any Social PR knots you've tied yourself into, so that you can be on your merry Virtuoso way.
BONUS #3: All-Access Pass to the Social PR Virtuoso Invitation-Only Community
All of us are smarter than just some of us, or just one of us - this I truly believe. Which is why I've created a private, invitation-only community just for Social PR Virtuosos.
It's where you'll meet your fellow Virtuosos, get to know them, and learn, laugh, vent and celebrate together.
And it's where you'll have constant access to me, for either a pat on the back or a kick in the pants, depending on what you need.
BUT WAIT, THERE'S EVEN MORE!
SUPER-BONUS: Lifetime Access to Archives of My Free Trainings
If you've attended any of my free trainings, you'll know they're quite unique.
Like the bee's knees, only bigger and better, so like the deer's ears.
A training with me isn't just a great learning experience, it's so much fun you feel like you just danced down Bourbon Street during Mardi Gras. Without the hangover.
And because even my FREE trainings are rock solid, I make sure that Virtuosos have lifetime access to them, so that they get double - or TRIPLE! - the training smarts they need... when they need it.
Including all the materials I create for these trainings - those in and of themselves are worth the price of admission.
SUPER-DUPER BONUS: Exclusive LIVE Online Classroom Experience with "The Master Course Intensive"
There are many qualities that set a Social PR Virtuoso apart from the madding crowd. And one of them is listening (which is why we go into it in Module 1). And I've been listening to my Virtuosos ever since I launched the course.
And while they love the online, self-paced nature of the course, what they REALLY love is being able to interact with each other... and with me.
So I've created The Social PR Virtuoso® Master Course Intensive: a compact, 4-week, LIVE class that will be available just a few times each year.
The Intensive is your opportunity to go through each module with me and your fellow Virtuosos, LIVE and in person. You'll ask me questions, I'll problem-solve, and we'll rinse and repeat for the next three weeks.
This will get your Social PR Virtuosity off to a flying start, allowing you to tackle any incoming curveballs with more flair than David Beckham, more grace than Gisele Bündchen, and more confidence than Tony Stark.
You'll always be able to review the Master Course content any time you want, and all the other bonuses are still yours for the taking.
But the Intensive is as close to a LIVE experience as you can get with an online course. It's literally the gift that keeps on giving!
The Social PR Virtuoso® Master Course Intensive Kicks Off On:
Thursday, March 2

4 pm PST (Los Angeles)
7 pm EST (Washington, DC)
midnight March 2-3 GMT (London)
Want More Reasons to Invest in The Social PR Virtuoso?
I'm Always Listening

You're My People

Awesome Community

Lifetime Access
Self-Paced Training

Live Class Experience

Career Igniter

Learn From the Best
Get your All-Access Pass to the Social PR Virtuoso for a one-time payment of $499.
If you do the math, that is literally less than $10 a week ($499 / 52 = $9.59). And it's HALF of what you'd pay if you signed up for one of the workshops I teach for industry organizations, and with access to material I share NOWHERE else but here.
You will NOT find this caliber of instruction or attention anywhere else at this price, online OR offline.
Select your preferred payment method below: a one-time fee of $499 (11% savings!) or 4 equal installments of $139.
I love my peeps and my peeps love me
"Shonali's real-world approach really works; I've seen huge improvement in my own work product!"

Caitie Butler

Communications Director, Oregon Legislature
"Shonali's instruction is second to none; she has an uncanny ability to identify your specific learning needs and solve them."

Dominic Martella

University College Dublin
"The world of PR can be a daunting place. With Shonali by your side, you'll never be led astray."

Amy Geduldig

New York Public Library
"Shonali was such an excellent teacher that when we were looking for a consultant for the Blue Key Campaign, I recommended her for the job."

Caitlin van Orden

The League of Women Voters
Are you Ready to Be Transformed Into a Social PR Virtuoso?
You get:
The entire Social PR Virtuoso® Master Course, from start to finish
25+ workflows, formulas, and hacks you can start using in your own work
Bonus #1 - the Twitter chat Template Vault
Bonus #2 - Pick My Brain! Live, MONTHLY group calls
Bonus #3 - All-Access Pass to the private Social PR Virtuoso Community
SUPER-BONUS - Lifetime access to archives of my FREE trainings, including handouts
SUPER-DUPER BONUS - Opportunity to participate in The Social PR Virtuoso® Master Course Intensive, a 4-week LIVE online class offered a few times per year
Tips & tricks I will NOT share anywhere else
Lifetime access
First dibs on new offerings (and there will be many!)
Industry Leaders Believe in Me
My 100% Satisfaction Promise to You
The last thing in the world I'd want you to have is buyer's remorse. I hate it, and wouldn't wish it on my worst enemy. And you're FAR from that.
So: if you want your money back, I will give it to you - as long as you show me you did the work I asked you to do, within 30 calendar days.
You don't find immediate value in the private community once you join? You don't find my process transformatory as to how you think about and approach Social PR? You don't feel my proprietary templates, formulas and proven system are the bee's knees once you start work? I'll give you your money back.
As long as you show me you did the work, and let me know within 30 calendar days from the date you purchase, I'll give you a 100% refund.
Virtuosos Don't Sit on the Fence
Continue to pop the Pepto every time you're asked "why the video didn't go viral"
Wear your socks inside out wishing for some Social PR mojo to travel up your tootsies
Be the tortoise to everyone else's hare
Reach new career heights and soar over your peers with your newfound Social PR Virtuosity
Exude such an aura of success that you get more YouTube views than David Beckham's butt
Soar into 2017 armed with newfound Social PR smarts that don't cost you your first-born at auction
"TICK TOCK ON THE CLOCK BUT THE PARTY DON'T STOP, OH NO..."
Click either button below to get your All-Access Pass to the Social PR Virtuoso® Master Course
P.S. It's your career, and your life. Don't want in? That's your decision. But don't come crying to me when you see your colleagues - who DID sign up as Virtuosos - fly up, up and away. You win, you grin. You snooze, you lose. It's all up to you.
The Social PR Virtuoso® is a service offering of Shonali Burke Consulting, Inc., which helps you take your communication from corporate codswallop to community cool™.